"I love mine!! It's a must buy!!" – DeAnna A.
⭐⭐⭐⭐⭐
Our Magic Comb is the ultimate hair-straightening tool that gives you straight, shiny, and silky hair!
Say goodbye to your straightening iron! Much safer and better for the hair than a traditional heat iron. 
Works for every hair type.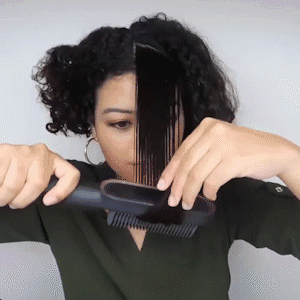 🌟 CUSTOMER RESULTS 🌟
[video width="1080″ height="1080″ mp4="https://gopodiscovery.com/wp-content/uploads/2021/08/desc-vid-2-edit.mp4″][/video]
HOW TO USE 
[video width="1280″ height="720″ mp4="https://gopodiscovery.com/wp-content/uploads/2021/08/desc-vid-1-edit.mp4″][/video]
FREQUENTLY ASKED QUESTIONS!
Q:Do the teeth get hot? Is it going to burn my scalp if I use it on the top of my head?
A: Our product has Anti-Scald Design which allows you to enjoy straightening worry-free from burning & shocking. The V-shape flame-retardant plastic frame will protect you from every angle. You can literally put our product on scalp and feel nothing.
Q:Does it work for really curly hair like natural curly hair? Or does it work well on mixed hair? Thick and very curly?
A: Our comb has 5 heat settings (266℉ – 410℉), which are easily selectable and can be adjusted to individual needs. No matter what hair type you have, even the thick and frizzy locks, you can always find the right setting to tame it.
Q:Will this work for short hair?
A:Yes! Our product is designed to be used on all hair types and all hair length. So It does work perfectly on short hair!
Q:Does this work with wet hair too?
A:We don't recommend to use it on wet hair, because it would hurt hair when its cuticle is open on wet state. We suggest you drying the hair before using.
Q:Do we simply straighten our hair with this straightener brush like a regular comb?
A:For better experience, we suggest to straighten your hair perfectly as the following:
Use only on dry hair;
Cover less hair in one stroke once for thick and curly hair;
Brush Slowly at a constant speed in a pulling motion;
Make sure your hair gets deep into the inner area of the brush.